Clicgear 3.5 push cart
While we do want to get as much exercise as we can when we are playing any kind of sport- there certainly is a limit. You cannot always carry something heavy and play golf at the same time- that is called pushing your limits. While yes, you can carry the golf bag on your shoulder too but it will substantially ruin a bit of your game- if you are not experienced.
So, you need a golf push cart to pull you through the entire course. And, having your own makes a lot of difference. It actually provides you with a milder form of exercise that is more helpful. There are many push carts out there and our concern today is the Clicgear 3.5 push cart. It is rare that a company is completely honest in its own naming conventions, but Clicgear proves to be the exception to the rule with its introduction of the newest Clicgear 3.5+. In this article, you will know everything about it through this Clicgear Model 3.5+ Golf Push Cart Review and Buying Guide. Let's get started!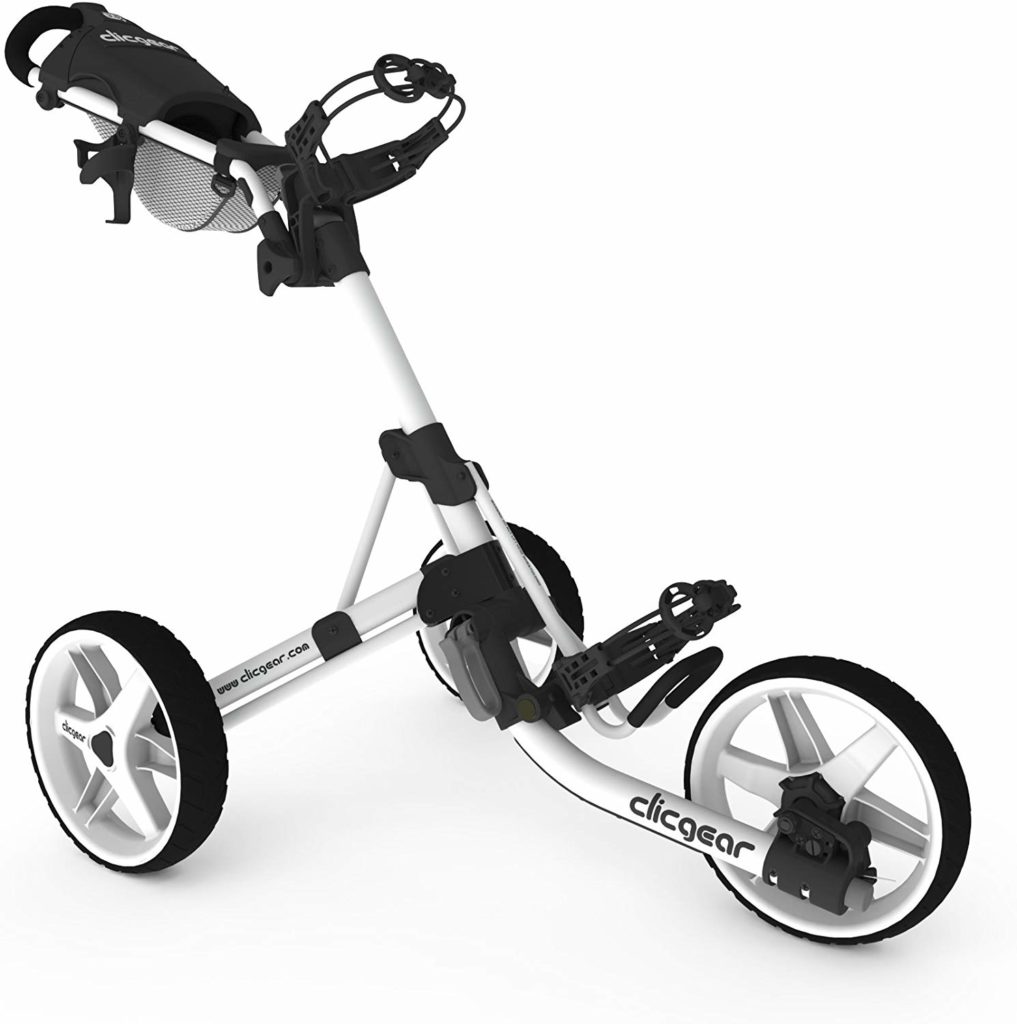 The Features of Clicgear 3.5 Push Cart
These are the features that set Clicgear 3.5 apart from the others.
The Easy-Clip Bag Straps
Another concern with pushcarts is will they able to hold your particular bag well? Well, apparently, this one probably can. Because it has straps that you can adjust and fix around your golf bag easily. Thus, it is pretty much fit for any golf bag out there.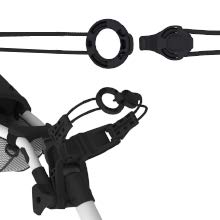 But, the problem is with the mechanism of these elastic straps. Apparently, some people could not figure out how it works and a few others complained about the quality. So, you have to check before you buy or accept the delivery.
A Hand Brake
Sometimes you are so occupied by the game that you forget that you are parking your cart on a slope or hill. So, it starts sliding away. In these cases, it is hard to stop the cart with your strength alone.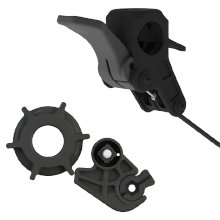 Therefore, this cart has a brake in its handles to make things easy for you. You can just use the hand brake to stop the cart from falling or sliding away.
A Slide to Close Mechanism
One of the most important considerations, when you are buying a golf push cart, is the ease of folding and storage. Luckily, this one is very easy to turn into something very portable. You can easily fit it in your car and also store it in your house.
In fact, you can just slide its tubes down to fold it. So, you close it or open it based on your requirement.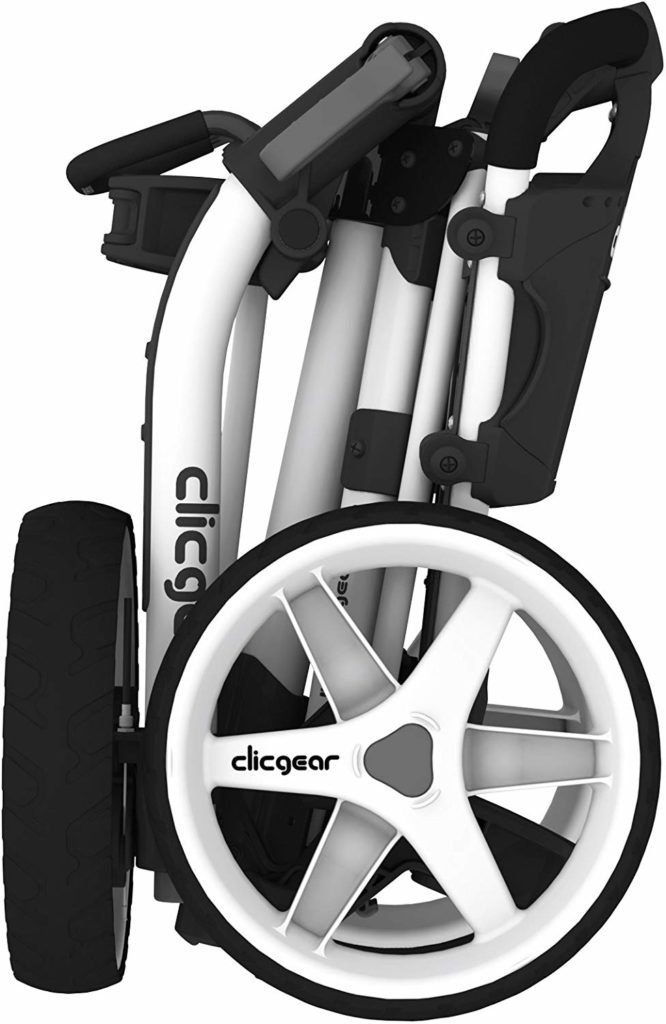 The Accessories
You do not only need the golf bag when you are golfing- sad but true. You often need to carry an umbrella, maybe your morning coffee too because you started so early. A healthy life is necessary, right?
And, this cart makes everything easy for you. Here is a list of accessories the console comes with:
Built-in Tee holder.
Ball holder.
Pencil holder.
Standard cup holder (yes!).
Umbrella mount.
Scorecard holder.
So, this cart has got you completely covered!
The amazing build
A golf push cart will be carrying a heavy set of golf bag with clubs in it. So, it has to be both strong and durable. Luckily, that is exactly what this cart is.
It is built from aircraft-grade aluminum- which is quite a strong material. Furthermore, it is scratch-resistant, maintaining a glow throughout its lifetime. Also, the wheels are airless tires that do not even require maintenance. It rides through effortlessly and smoothly.
However, a few customers found the Clicgear Model 3.5+ cart to be a bit heavy. Other than that, there were complaints about the assembly- it is not that easy. However, the unit itself is built to last.
Clicgear 3.5 Push Cart: Pros and Cons
Pros:
A very easy to fold unit which makes it very portable.
Easy to store.
Adjustable straps make it suitable for any kind of bag.
There are a lot of defined slots for various objects- balls, tees, etc.
Easy to move around because of the great wheels.
The handbrake works like a safety mechanism.
Extremely well-built with the best quality material.
Scratch-resistant build.
Available in seven colors.
Very compact and durable.
It offers good value for the money.
Cons:
It may be a bit heavy.
The straps are a bit hard to adjust at times.
Not the easiest to assemble.
Frequently Asked Questions About Clicgear 3.5 Push Cart
What is the difference between 3.0 and 3.5 models?
Answer: The build of both of these model are pretty much the same. However, the 3.5 model comes with extra storage, newer adjustable straps, deeper control, and an improved brake system.
2. Is it a good choice for wet ground?
Answer: Yes, it does absolutely fine on wet ground.
3. How is it on hills?
Answer: It does a great job on hills as well. Quite easy to move around.
In conclusion
So there you go how was the Clicgear Model 3.5 golf push cart review? As you can see the push cart has both pros and cons. The pros are definitely larger in number but what matters is what is the weight of the cons for you? Can you do fine with the existing cons? If you can, the Push Cart does offer good value for the price. So, check it out and buy it.