Sometimes you want to get away with not buying everything you need. However, you may be thinking right now, do you even need a golf push cart? You actually do unless you use a golf cart.
While you could use a caddie, hiring one without a golf cart could bring on greater tips. Furthermore, hiring a caddie itself is more expenditure in this already expensive game. Apart from that, when you invest in something permanent that reminds you of your passion- you try harder.
Now, with so many golf push carts available out there, which one is suitable for you? Well, there are many but you have to know about them and about yourself first. The one we will be telling you about right now is the Jef World of Golf Deluxe Steel Golf Push cart. In fact, you will get to know a lot about golf carts through this Jef World Of Golf Deluxe Steel Golf Push Cart Review and Buying Guide.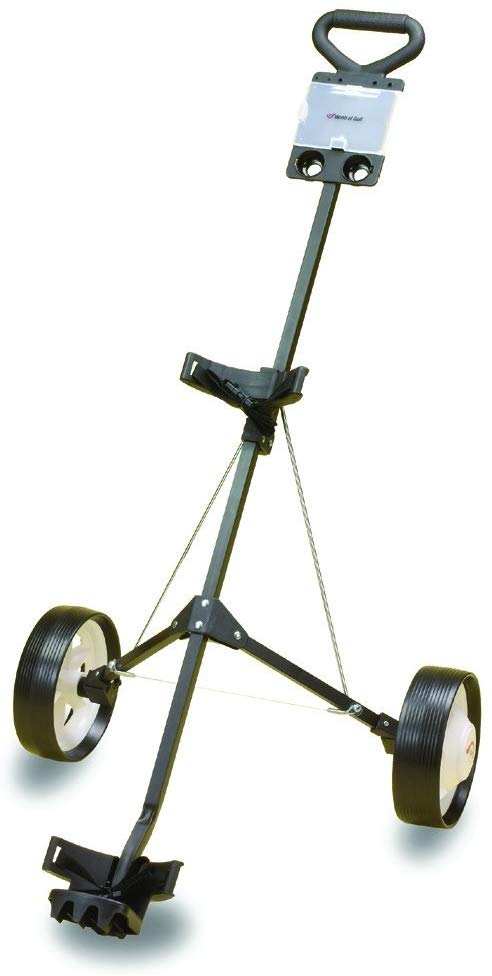 Let's get to know the features of this golf cart to see what is so special about it.
Folds In Half
Since one of the main concerns with golf push carts is storage and portability, these features save us all from the fear. Apparently, this unit folds in half for convenience. Furthermore, no one ever had any complaints about its folding mechanism.
Jef World Of Golf Deluxe Steel Golf Cart folds easily and the mechanism has no flaws.
A contoured base with an adjustable strap
Golf bags are of different sizes and not all carts are supposed to fit in them. However, there are carts in which most golf bags fit because of the adjustability. This Jef World bag is one such bag that fits most of the large golf bags.
Apparently, it has a contoured base which is more suitable for the larger bags. Furthermore, the adjustable straps help to keep them in place. At times, however, these straps can get in the way of the wheels when you are moving the cart around.
Wide Wheels with a Clip mechanism
You can guess where stability comes from. Most often it comes from wide wheels and this cart has really wide wheels. Thus, when moving it around, you can move it around quite smoothly.
Furthermore, it stands and handles the weight of the golf bag quite well thanks to the wide wheels. You can easily remove the wheels using the clip mechanism. As compactness is of value, the clip mechanism plays a great role when it comes to storing the unit.
Waterproof scorecard holder
You do not want the scorecard to get wet and ruin the score you have recorded. Thus, this pushcart thinks far and has included a waterproof scorecard holder. However, it does not have slots for many other important things.
While you can carry an umbrella on your golf bag, it would have been easier to use the pushcart for carrying it. But, the pushcart does not have such features.
The Build
This bag has been built with steel as you can imagine from the name. While it does not rust, it also is not the strongest. Most people who buy it are quite happy with the strength of the build and the bag.
However, there are also those who say that this bag is only good for light-duty use. It is not the most suitable for hills or rough terrain. Again, you may find loose screws or even missing screws on this unit when it first arrives. So, it is best if you check it carefully after receiving it.
But, it is quite a lightweight unit, easy to move around.
Jef World Of Golf Deluxe Steel Golf Cart's Pros and Cons
Pros:
An extremely budget-friendly golf pushcart.
Very easy to fold and store or carry around.
The wide wheels make their movements very smooth.
Quite lightweight- makes it less of a burden for you.
Most large bags can fit in it easily.
The waterproof scorecard holder.
Good quality builds with steel used as material.
Cons:
It does not have a lot of features- not even an umbrella holder.
May not be a great choice for heavy-duty use.
It may have missing parts and screws.
It does not always fit small bags.
Frequently Asked Questions About Jef World Of Golf Deluxe Steel Golf Cart
Will keeping the longer clubs on the scorecard holder side restrict access to the scorecard slot?
Answer: Yes, it will. It is better to keep the shorter irons on that side.
Can you both push and pull the cart?
Answer: Yes, you can do both. You may have to press the handle a bit and also tilt the unit a bit when pushing.
How does the scorecard holder open?
Answer: It has a plastic hinge that opens and snaps back in place when you leave it be.
The Buying Guide
There are a few things you have to keep in mind when looking for a golf cart. Or else, you won't find one that suits you perfectly.
The type you are looking for: We talked about a manual golf cart that you need to push and pull. However, there are carts that have motors, or that run on batteries, you can consider those if you do not want to strain yourself.
The size and weight of the cart: You need to check out the size of the base and also the adjustability of the bag to see if it can handle your golf bag. Also, the lighter the cart the easier it will be to carry around.
The Ease of storage: You should be able to fold it down to a compact size so you can store it easily.
The Wheels: It should be able to handle hills, wet ground, rough terrain, etc. The wider the wheels, the more stable the cart will be.
Quality: The overall build should be strong and sturdy enough to handle the weight of the bag and the abuse of the weather.
In conclusion
You see even though this pushcart has some issues, it comes at a fraction of expensive carts that offer the same thing and quality. Thus, it is worth giving a try especially if you are on a budget. Because most people have loved this unit. Leave a comment that how was the Jef World Of Golf Deluxe Steel Golf Push Cart Review.