Golf is a sport that requires, among other things, a great deal of precision. But it is also true that it is never very easy to assess the distance separating your bullet from your target, hence the importance of being equipped with a rangefinder such as the TecTecTec VPRO500 golf rangefinder, a specially developed model. for this sport that will allow you to optimize your performances. So that you know exactly what it is worth, and so that you can be sure that it meets all your expectations, we wanted to present it to you in a very detailed way. Thus, in a few minutes, you will have no more doubts about it, which will allow you to make your purchasing decision with full knowledge of the facts.
Let's explore our TecTecTec VPRO500 Golf Rangefinder review further and know why this will be a great choice for you.
Technical characteristics
Colors: Black and aluminum gray
Materials: Plastic and stainless steel
Dimensions: 10.2 x 6.9 x 3.9 cm
Accessory: Protective cover
Weight: 160 grams
Features of TecTecTec VPRO500 rangefinder
The first things to consider in a range finder are the quality characteristics. So let's take a look at the features of TecTecTec VPRO500.
Range and precision
The most important characteristics of a range finder are range and accuracy. This feature can make or break any range finder and certainly TecTecTec vpro500 won't disappoint.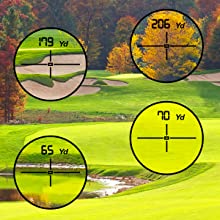 You can measure up to 540 meters with a continuous scan mode. This isn't the highest range compared to some other laser range finders, but it's more than enough for most golfers if only used on golf courses.
It might not be a perfect laser rangefinder if you plan to use it to measure distances for any other object besides golf like hunting. Out of range, the vpro500 instantly gives distance when aiming the range finder on a flag.
Accuracy means a lot when we are talking about a rangefinder, and especially in your game. If the rangefinder doesn't lock the target and give an accurate reading, then it's no work.
However, the VPRO500's new Pinsensor technology not only provides fast readings but also gives an accurate reading down to plus / minus 1 meter.
It also removes obstacles to the way you see. So, TecTecTec VPRO500 may be the best choice for those who are looking for a laser range finder with good accuracy in a reasonable price range.
Trio Modes
The most unique feature of the VPRO500 is the three distinctive and active modes to be used to locate the flag. The first mode is the First Target Priority mode, and this mode ensures that the rangefinder locks the flag against a distracting background. He points to the flag and ignores the objects on the back of it.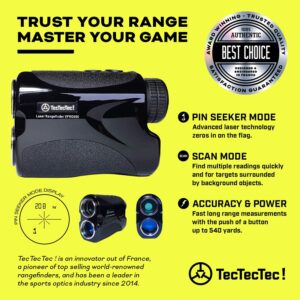 [maxbutton id="1" url="https://amzn.to/30by1Dl" ]
The VPRO500 can even spot the flag if it doesn't have eye-catching markings or reflective lining. In ProScan mode, it can scan the golf course continuously.
It can travel the territory up to 540 meters from the flag and can provide distance to hazards, trees, sand traps, etc. while you plan through.
The last one is the Distance Target Priority mode. This feature was previously only available in high-end laser rangefinders before being available on the TecTecTec VPRO500.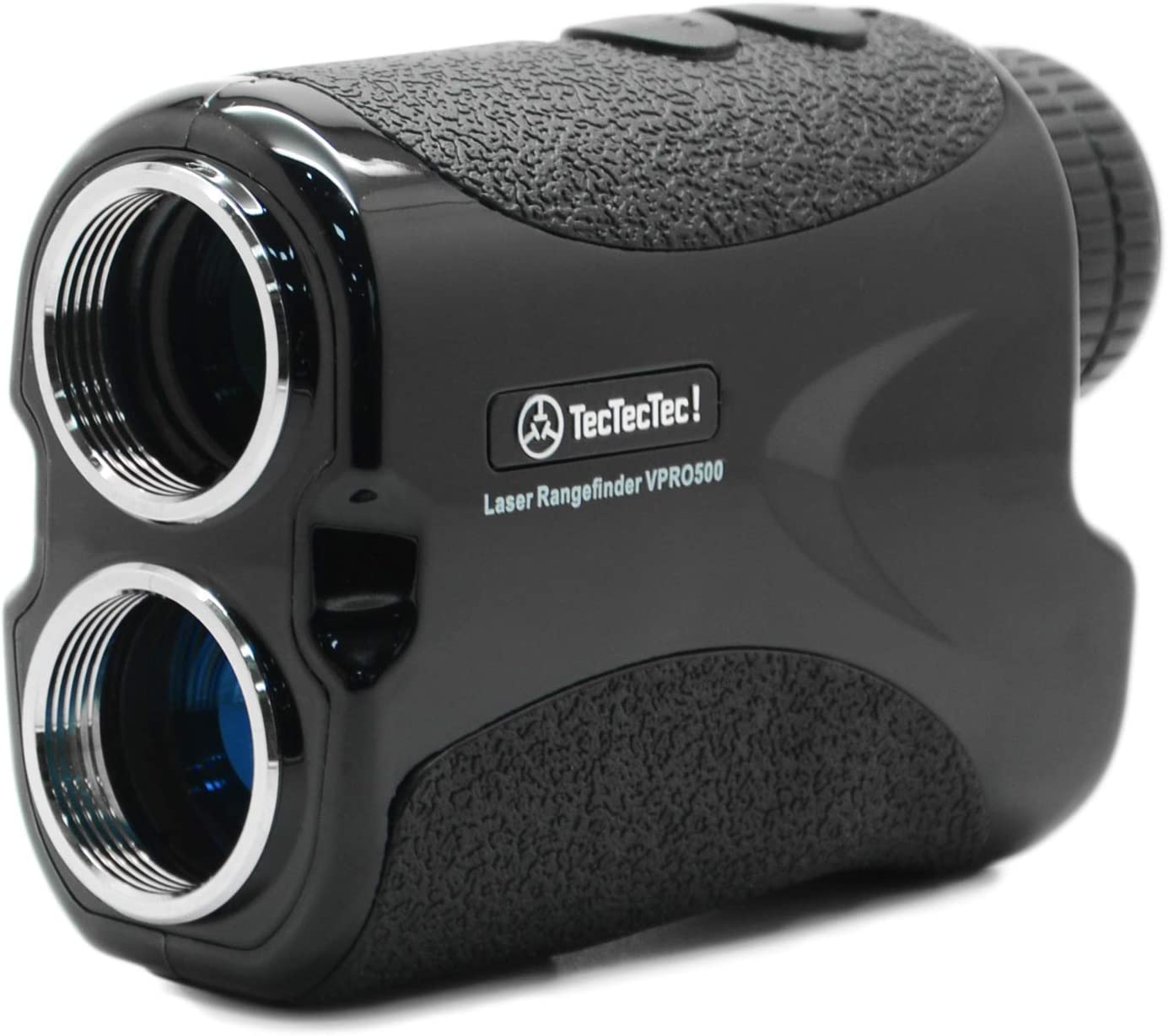 The VPRO500 Golf Laser Rangefinder by TecTecTec! - Score a hole in one for value! State-of-the-art optics and laser technology to improve your game like a pro.
Vision
The TecTecTec VPRO500 comes with a sophisticated optical system and advanced digital circuitry system. This device has 6X magnification and also has an excellent display through the lens. Thus, it makes all the information provided by this device very easy to read.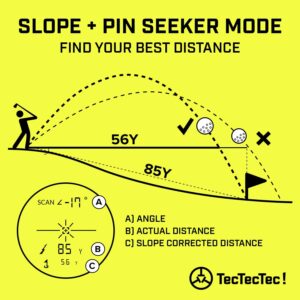 The multi-coated optics of this camera gives the lens high resolution and makes the focus target easy to see. Combining this with the accuracy of plus / minus 1 meter and the intuitive finger operation, the VPRO500 becomes an excellent laser rangefinder.
You can also use meters instead of yards to measure distances if you want. However, the display is not backlit, which is the only downside of the VPRO500. As a result, it is quite difficult to read distances in low light.
Self-targeted acquisition
The TecTecTec VPRO500 also offers auto-target acquisition technology like other economical laser rangefinders that attenuate signals from anything else big on the course and only give the accurate reading for the focus target.
Portability and durability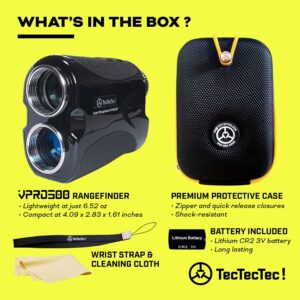 Portability and durability are important because you have to wear your rangefinder for a long time when you are on the course, so accidental dropping can happen anytime while playing golf.
The TecTecTec VPRO500 is compact and lightweight. The dimension of this device is 104 x 72 x 41mm and the weight is about 185g. Thus, it makes the device considerably portable and comfortable.
On the other hand, high-quality materials are used in this device to make it durable. As a result, you can use it for a long time and can last for years to come.
However, it is all up to you, how you use this device, you can use it several times in a year or a week, but that does not mean that it falls apart after just one use.
Although TecTecTec VPRO500 has a tendency to fog up inside the case, after a while the cloudy view may be reduced, but this is still a problem.
Despite this, the VPRO500 is an overall very durable and portable laser range finder. This device also comes with a premium carrying pouch for safe storage.
Storage bag
The TecTecTec VPRO500 rangefinder is supplied with its cover, which allows you to keep it protected from shocks in your golf bag when you are not using it. Very well made, this cover looks like your camera. Clever, it can be worn directly on your belt, or easily hung on your golf bag.
[maxbutton id="1" url="https://amzn.to/30by1Dl" ]
Conclusion
If you are a demanding golfer and are always on the lookout for the best accessories in order to optimize your performance, then there is no doubt that this TecTecTec VPRO500 rangefinder will bring you the greatest satisfaction. Indeed, it is the best-selling model in the United States, and we have to admit that its success is no accident. It is very easy to use and incredibly powerful, and it is certain that immediately after using it for the first time, you will not imagine a single second to be able to do without it since thanks to it, each of your parts of golf will take on a whole new dimension.