Practice makes perfect, no truer words. In just about any field we choose, may it be in the arts, entertainment, aviation -- just imagine an untrained pilot, horrible thought, right? But most especially in sports, now, what does this have to do with
golf
bags you say? I'm getting there don't worry, I'm not getting off track, or maybe I am (lol), anyway point is, in any field especially in sports we need to practice in order to be good at it but it's also true that having the best gears and accessories available for us, by our side is even better, segue,
the
top 10
best golf bags for push cart
s. See what I did there?
Whether you're a pro or amateur or someone that's maybe just starting out. We know how these golf bags are important in the course given that an average game of golf may last for about 4 hours, traversing over 18 holes. So unless you're Tiger Woods or some big-time hot shot golfer, most likely than none you carry your own gear with you. Let's get started!
Here Are Our Top 10 Best Golf Bags For A Push Carts:
10. PROSiMMON Tour 14 Way Cart Golf Bag
Features: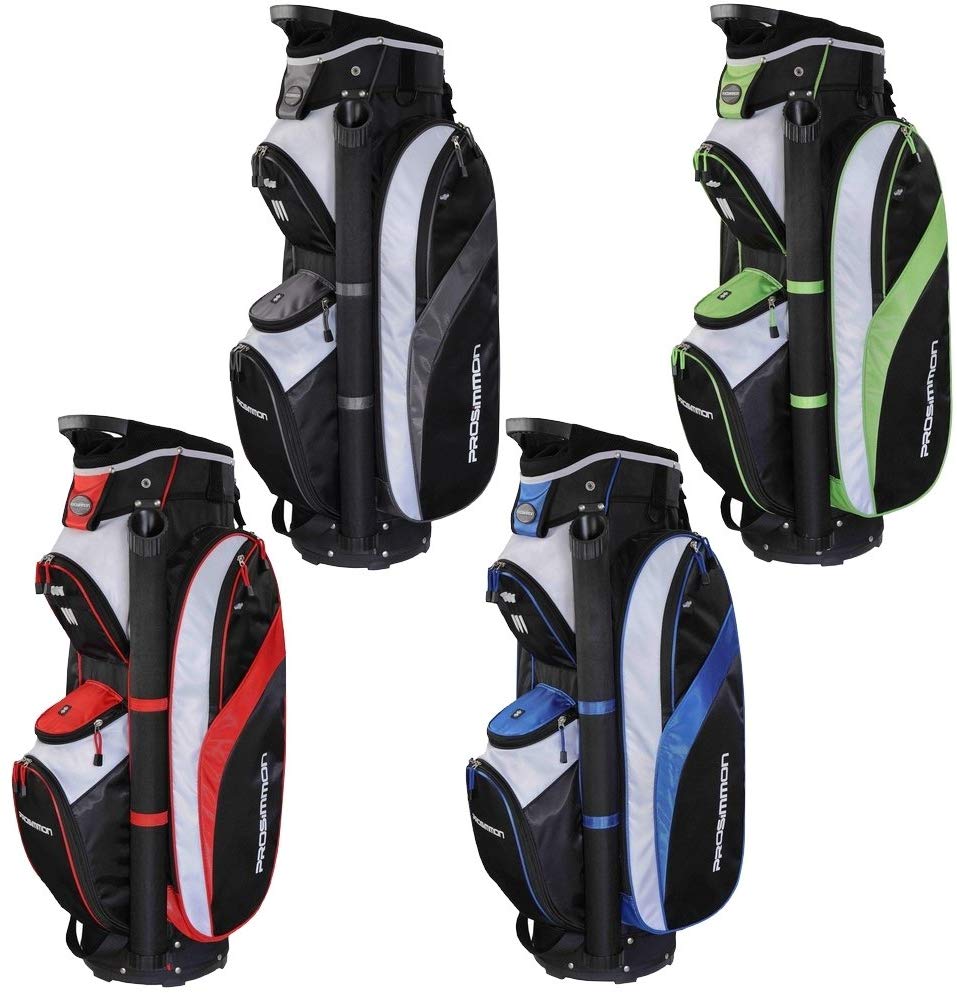 14-way dividers
Plenty of zippered pockets including:
1 deep ball pocket
1 small accessory/tee pocket
1 fur-lined valuable pocket
2 full-length side pockets – perfect for waterproofs and clothing
1 insulated drinks pocket
External putter tube if you prefer to store your putter externally – great for putters with larger heads
Velcro glove holder
Golf towel ring
External umbrella strap
Weight – 5.3 Lbs.
Rain hood included 
Our thoughts:
The sheer number of pockets is enough to get excited about, if you're the type to bring a lot of stuff with you on the course then this is the bag for you. Also, it keeps your beverage either hot or cold because of its insulated pockets. The 14 length dividers is also a winner, organize your clubs to bring out your A-game and protect them at the same time.
9. Hot-Z Golf 4.5 Cart Bag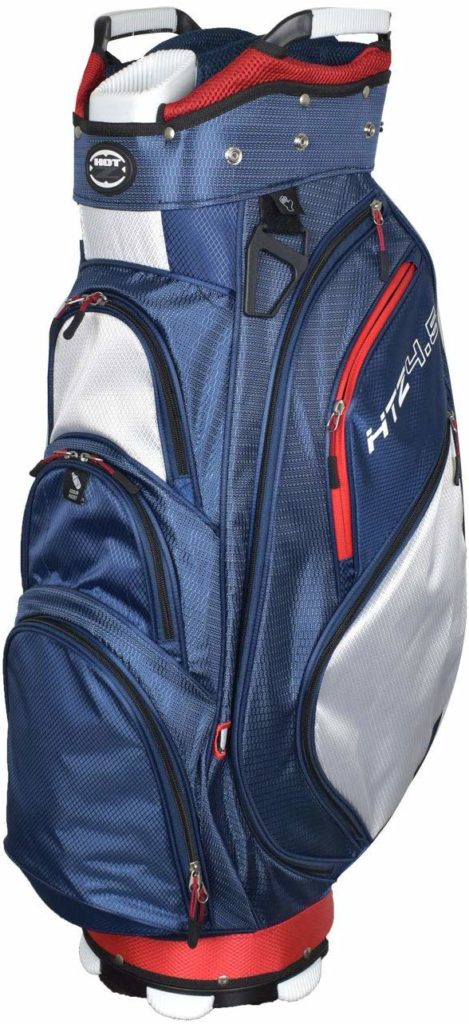 Features:
9.5-inch 14-way graphite friendly separator top w/ putter pit and handles
14 Full-length club/shaft dividers
8 zippered pockets including a velour-lined valuables pocket & bottle compartment
Padded rear
Pen sleeve, towel ring w/ Velcro glove attachment and also with umbrella and tee holder, scorecard sleeve & rain hood cover
Lightweight dobby nylon materials
Our thoughts:
The price for this bag's features really stood out for us. If you're looking for a larger bag that will contain everything that your game requires to go for this. 
8. Sun Mountain C-130 Cart Bag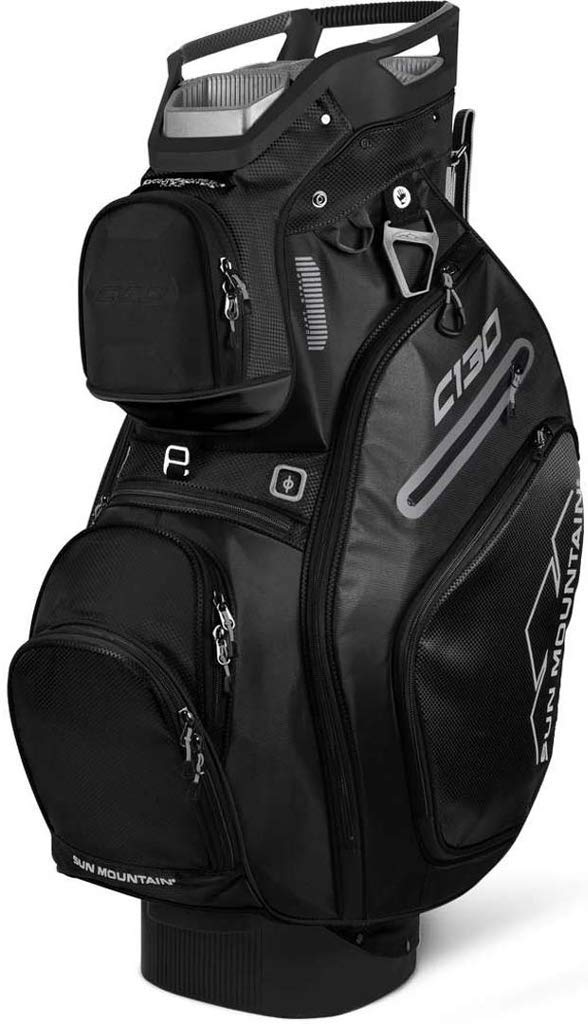 Features:
Top Dividers: 14-way
Top Diameter: 10.5″
Pockets: 10
14-way full-length dividers
3 integrated top handles
Integrated putter well
Reverse orientation top
New Smart Strap System
Single padded shoulder strap
All pockets face forward
3 velour-lined pockets
2 full-length clothing pockets
Cooler pocket
Umbrella holder
Towel ring
Includes rain hood
Product Dimensions: 10 x 13 x 36 inches
Weight: 6.9 lbs.
Our thoughts:
The bag was just made with using it with a cart in mind, it's got features that is really fit for those who prefer to use their carts rather than carrying the bags around. Your 14 clubs are divided at full length to protect them and prevent migration of shafts. It has a Smart Strap system that works perfectly with your cart.  
7. TaylorMade Golf TM Stand Golf Bag 5.0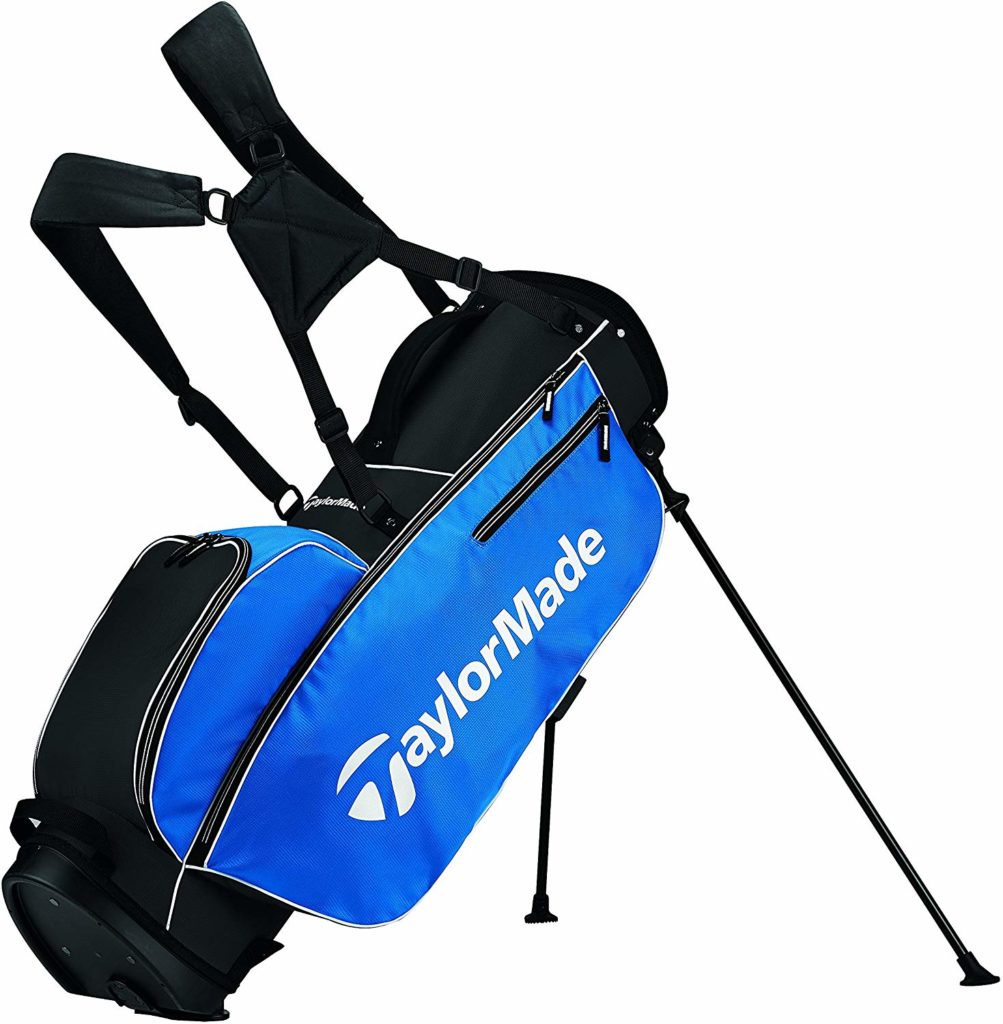 Features:
5-Way divider top
6 Pockets including ball and tee pockets
Velour-lined valuables pouch
Anti-split stand system
Comfort shoulder strap system
Matching rain hood
Umbrella sleeve 
Our thoughts:
The ergonomic dual shoulder straps for versatility is a winner for us. Whether you prefer pushing it in a cart where it fits perfectly or at times you may want to carry it, it's perfect for both preference. It's just one of those golf bags where comfort is a priority.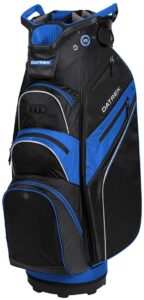 6. Datrek Lite Rider Pro Golf Cart Bag
Features:
15-Way organizer top with Individual full-length dividers
Dedicated oversized rubberized putter well
Ergonomic soft-grip lift-assist handles
Insulated cooler pocket
Featuring top-look technology, a patented bag-to-cart attachment system
Our thoughts:
While it may not be as versatile as our other cart bags, it serves its main purpose efficiently. The storage and the dividers stand out, and it's so lightweight you won't have issues moving it around.
5. Bag Boy Golf Chiller Cart Bag
Features:
15-Way top with full-length individual dividers
9 total pockets provide ample storage
Removable insulated cooler bag holds six 12-ounce cans
Soft-grip oversized putter well for oversized grips
Ergonomic soft-grip lift assist handles
Our thoughts:
Well, this one is a no-brainer, as the name of this awesome bag says it's meant for your beverages. So it's perfect to carry those ice-cold with you around the course to stay hydrated if you know what I mean.   
4. TaylorMade Golf TM Cart Golf Bag 5.0
Features:
14-way top with 3 full-length dividers
Multiple grab handles
Padded single shoulder carry strap
7 total pockets provide plenty of storage
Pockets include a velour-lined valuables pocket
Two full-length garment pockets and a golf ball pocket
Cart optimized base construction
Matching rain hood included
Constructed of durable nylon material 
Our thoughts:
This bag is just one of those versatile and very efficient products. It's got almost all the features you'd ask for, for comfort for your gear and accessories that will make that golf experience even better.
3. Team Golf NCAA Fairway Golf Stand Bag
Features: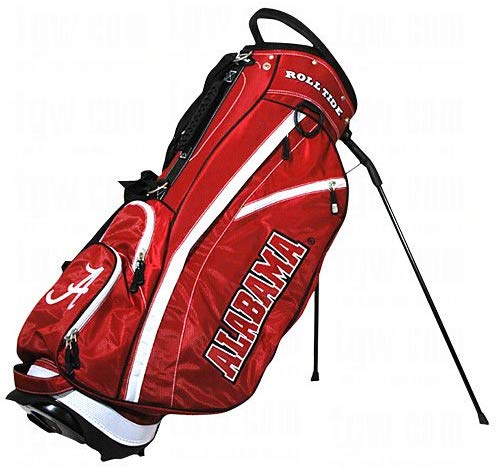 Officially licensed product
6-location embroidery displays the school's name and logo
Lightweight and full-featured bag
14-way top with an integrated top handle
2 lift-assist handles
Full-length dividers
Dual strap
5 zippered pockets
Umbrella holder
Cooler pocket for beverages
Fleece-lined valuables pouch
Removable rain hood
Towel ring
50% Nylon 50% Plastic
Weight: 6 lbs
Dimensions: 9"D x 12"W x 35"H 
Our thoughts:
The cool design brought about the partnership with your NCAA school. It also is a very efficient and versatile bag good for carrying and is comfortable and stays put in your cart while you swing that club to perfection.
2. NFL The Bucket II Cooler Cart Bag
Features: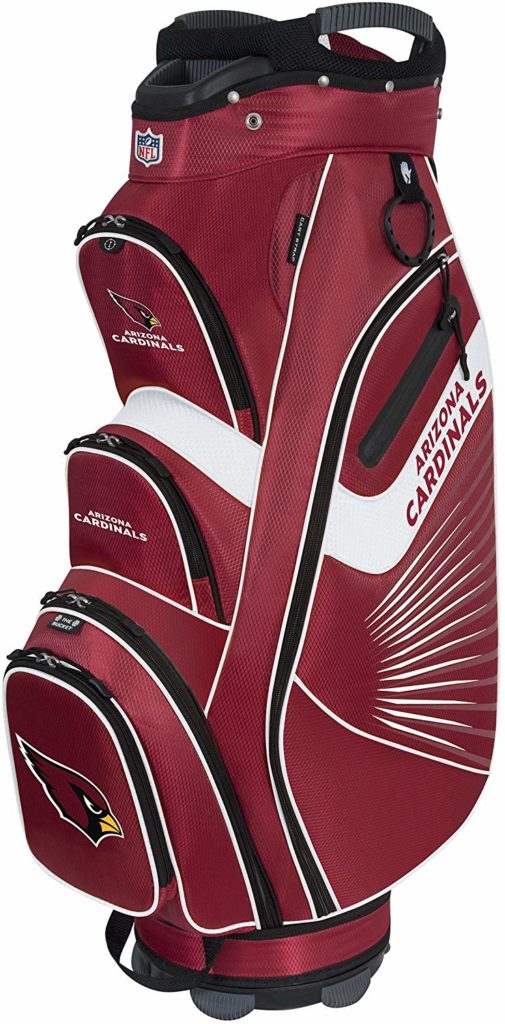 14 organizer top, front putter well, provides a superior club management
3 Full-length dividers
Ultra-lightweight nylon construction. Moulded rubber handles provide easy loading and transport.
Rounded pocket openings
Oversized towel ring
Glove patch
Three-Point umbrella system
Removable rain hood
Pen sleeve
Embellished with six NFL team trademarks  
  [maxbutton id="1" url="https://amzn.to/345EylK" ]  
Our thoughts:
The spacious pockets for ample storage are already a winner for us. Do you pair that up with a top-notch design from your favourite NFL team? Shut up and take my money!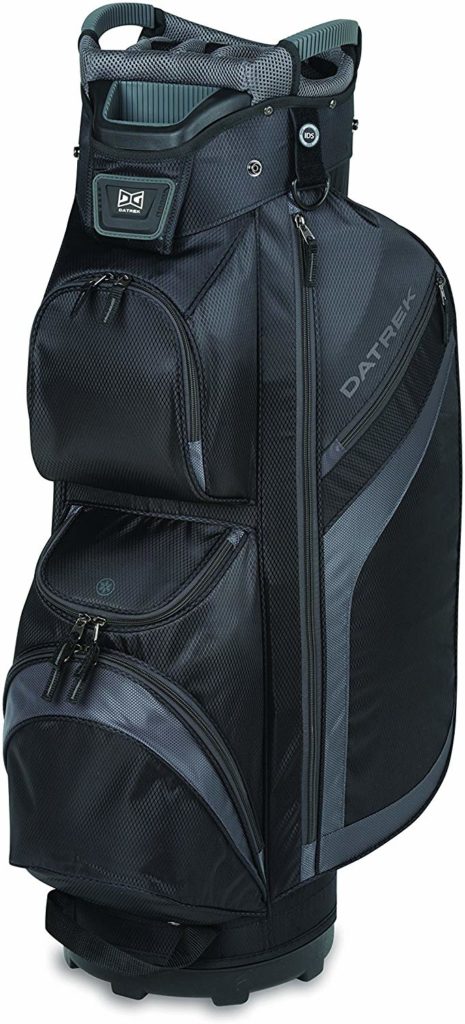 1. Datrek DG Lite II Cart Bag
Features:
Top: 15-way with Individual full-length dividers
Soft grip lift
Soft grip putter
7 total pockets provide ample storage, including two oversized apparel pockets, a large ball pocket, and a fleece-lined valuables pocket
Oversized insulated cooler pocket 
Our thoughts:
This bag is so cheap for its feature that it's not fair. Very durable, very versatile and looks nice. You can't find such an efficient bag for all your golfing needs compared to this one.
Additional Tips For Buying Best Golf Bag for Push Carts:
Dividers and Pockets.
It's important to note that this is essential if you want to use your clubs for a long time. Different playing styles or needs require different types of golf clubs. Dividers and pockets are important to keep your clubs from smashing against each other, thus preventing any damage. So when looking for a bag, consider this feature based on your club needs.
Storage
Oh, but what use is a bag without enough storage, right? Especially for golf, as you spend hours on the course, and you WILL need a ton of stuff. But what's the trade-off? It's the weight for sure, but we'll get to how you can remedy that in a bit. Knowing what you need if whether you are a light traveller or you have a lot of valuables or accessories needed to keep you going, is important, and you should consider how much storage you'd like for your bag. Coolers for your six-pack? Yes!
Weight
For obvious reasons, but it's important to take note that bags on sale vary in weight when empty as well. Whether it's a super durable, efficient bag that's a bit heavy or a lightweight bag for all the different reasons, find what's best for you.
Carry or Cart
Now this here will compensate for the type of golfer that you are. If you carry a ton, then a cart or a golf bag for carts would be best for you. If you're the carrying type, look for bags that are more comfortable to carry; these are the padded dual-strapped ones, most likely. But wait, there's more! There are ultra-versatile bags like some of the ones we reviewed in this article.
Price
Last but not least is the PRICE. What's your budget? How committed are you to the game? You can be the casual golfer and just get a cheaper bag or a hardcore player, it's up to you, and different bags for different prices come with varying features. So now that you've gone through our extensive review of some of the best golf bags for push carts, we hope we've helped you make the right decision for your golfing needs. Cheers to the next champion or not.
Conclusion
So there you go. This was our review on the best golf bag for push carts money can find these days. Always remember that whenever it is an accessory like a bag, you will find people who will not like what you buy and vice versa. Buying a bag is a subjective decision, and your thoughts should always get priority.