Introduction:
Golf has immense benefits for both your health and social life. You get to train your body, meet new people, and enjoy the outdoors environment. Yet with this sweetness comes the bitterness of storing and carrying the countless golf gears. Let's be honest, not all players are fans of sitting still in a vehicle to reach the arena. And finally here is the CaddyTek CaddyLite 11.5 V3 Deluxe Golf Push Cart Review.
CaddyTek CaddyLite 11.5 V3 Deluxe Golf Push Cart Review
Well, caddies can be handy but not all golfers can afford a regular paycheck. Here comes every confused golfer's best field companion, push cart. Since not all push carts are user-centric and effective, we have chosen one of the best push carts on the market for reviewal.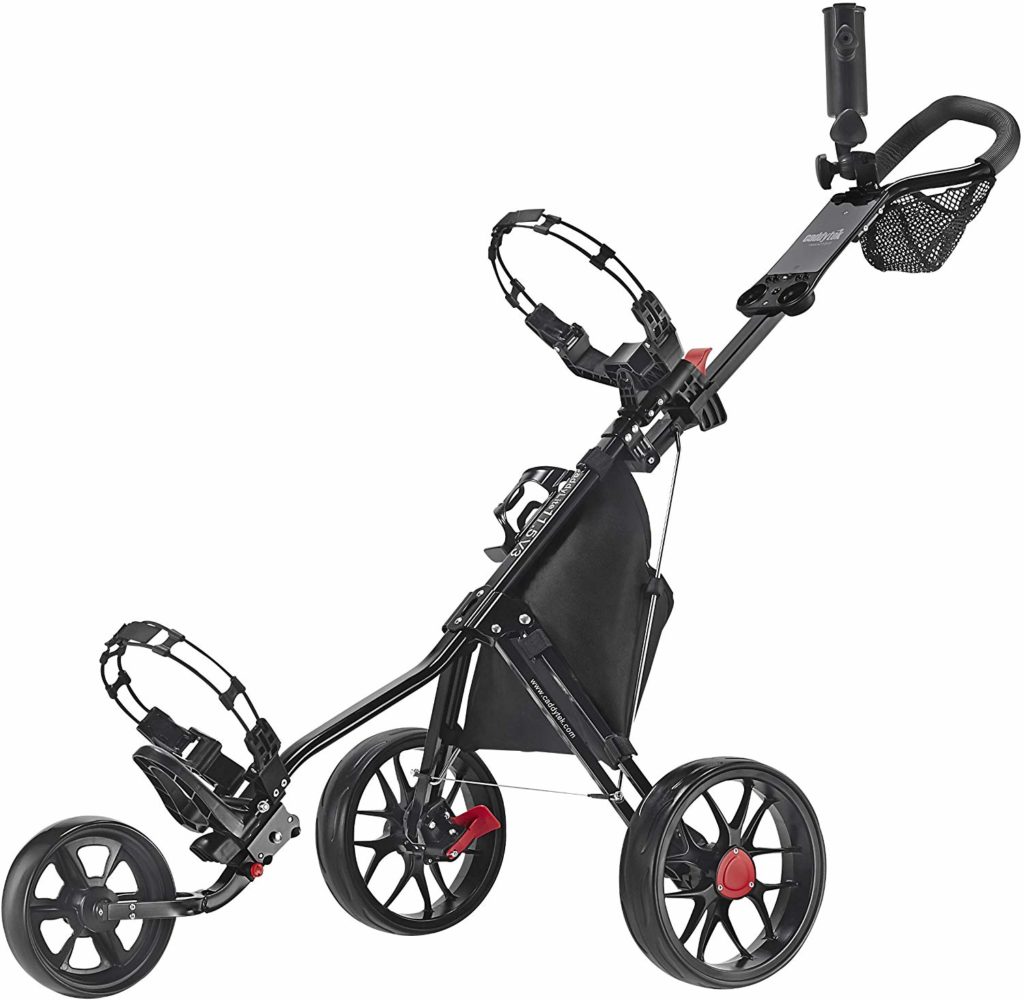 [maxbutton id="1″ url="https://amzn.to/32m5AnI" ]
Features of CaddyTek CaddyLite 11.5 V3 Deluxe Golf Push Cart
CaddyTek is a brand renowned for its affordable yet reliable, sturdy, and innovative equipment. The CaddyLite 11.5 push cart makes no exception. The following is an overview of its features. Keep reading, it may help you make the right purchase decision.
Ample Storage Capacity
The main push cart function is efficiently storing and carrying all your golf gear. The CaddyLite push cart offers you more than that, since it comes with ample room for your personal items. One of its key features is the pre-installed brackets suitable for all bags types, with additional elastic straps in case you want to make sure your bags are put in place.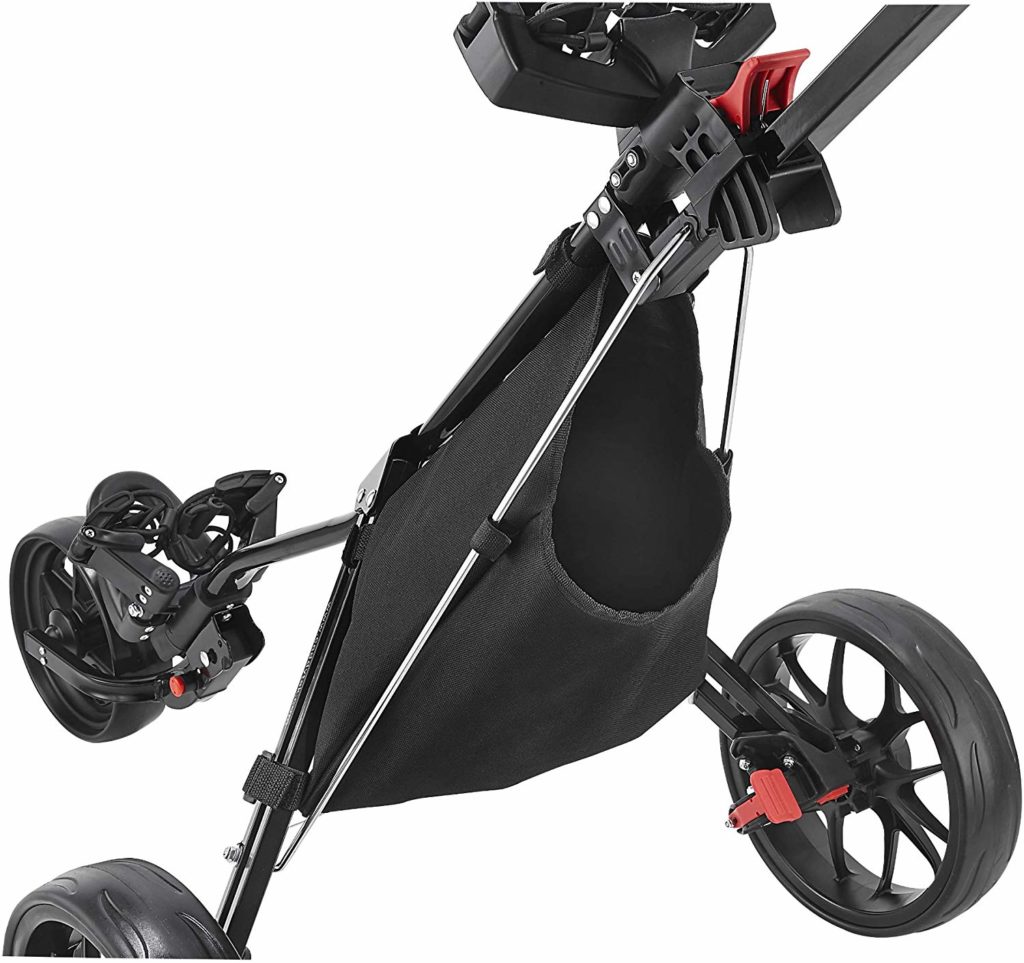 The storage space also includes a beverage holder and an umbrella holder with an adjustment knob. So you do not have to worry about umbrella sizes. If you think that is all, the CaddyTek 11.5 V3 Deluxe surprises you with a mesh net on the handle and basket for all your miscellaneous.
Wheels
Wheels can make or break your experience. No wonder they are the backbone of any push cart as they lend convenience and stability. For this, the CaddyTek Caddylite 11.5 comes with smooth and adjustable 3-wheels. The rear tires are 11-inch size while the front wheel is an 8-inch, making it control the push cart direction and movement easily.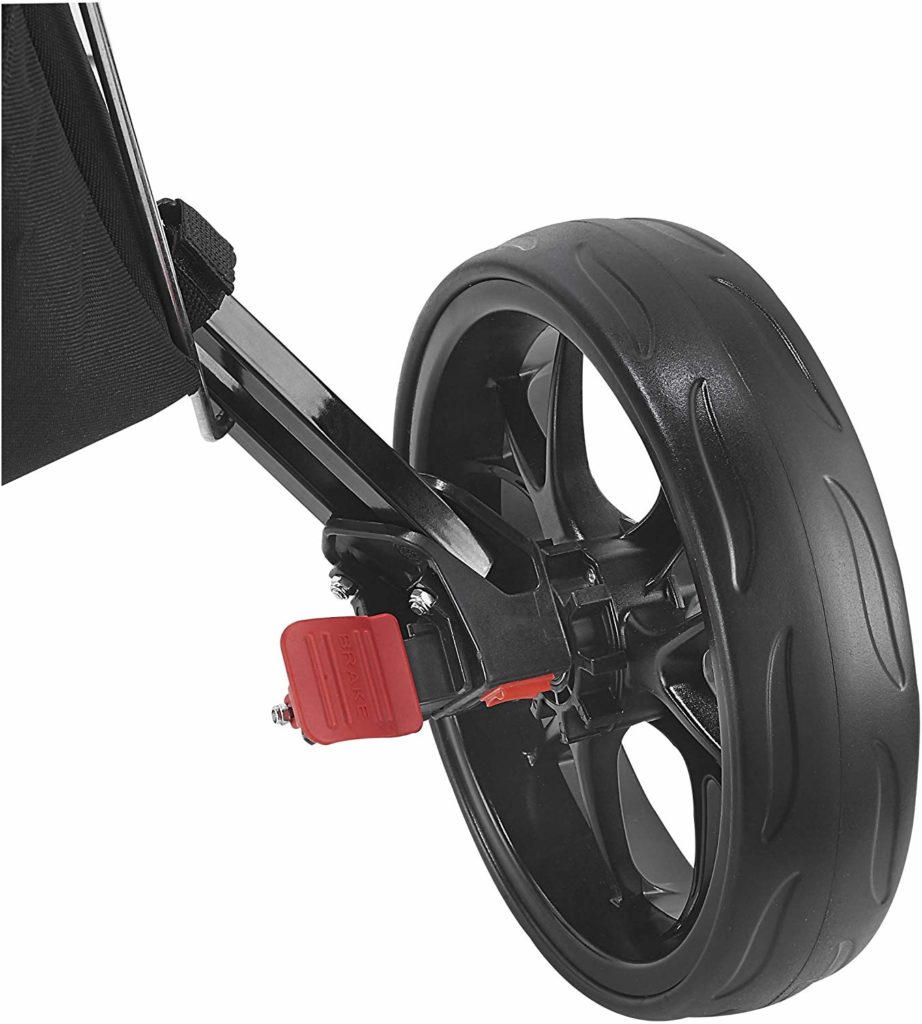 Additionally, the front wheel has an alignment mechanism, which is an instrumental spec for stability and balance. As the front wheel leads the way and takes most of the pressure, being correctly aligned and easily adjusted make it suitable for any surface. With smoothness and balance comes maintenance freedom. The tires are airless, meaning they are hassle-free.
[maxbutton id="1″ url="https://amzn.to/32m5AnI" ]
Pretty And Portable
It may be hard to believe that this push cart is sturdy, compact, and handy when you look at the first time. The simple and sophisticated design can make you think it is fragile and inflexible. However, CaddyLite 11.5 is designed with tubular aluminum, making it both durable and lightweight.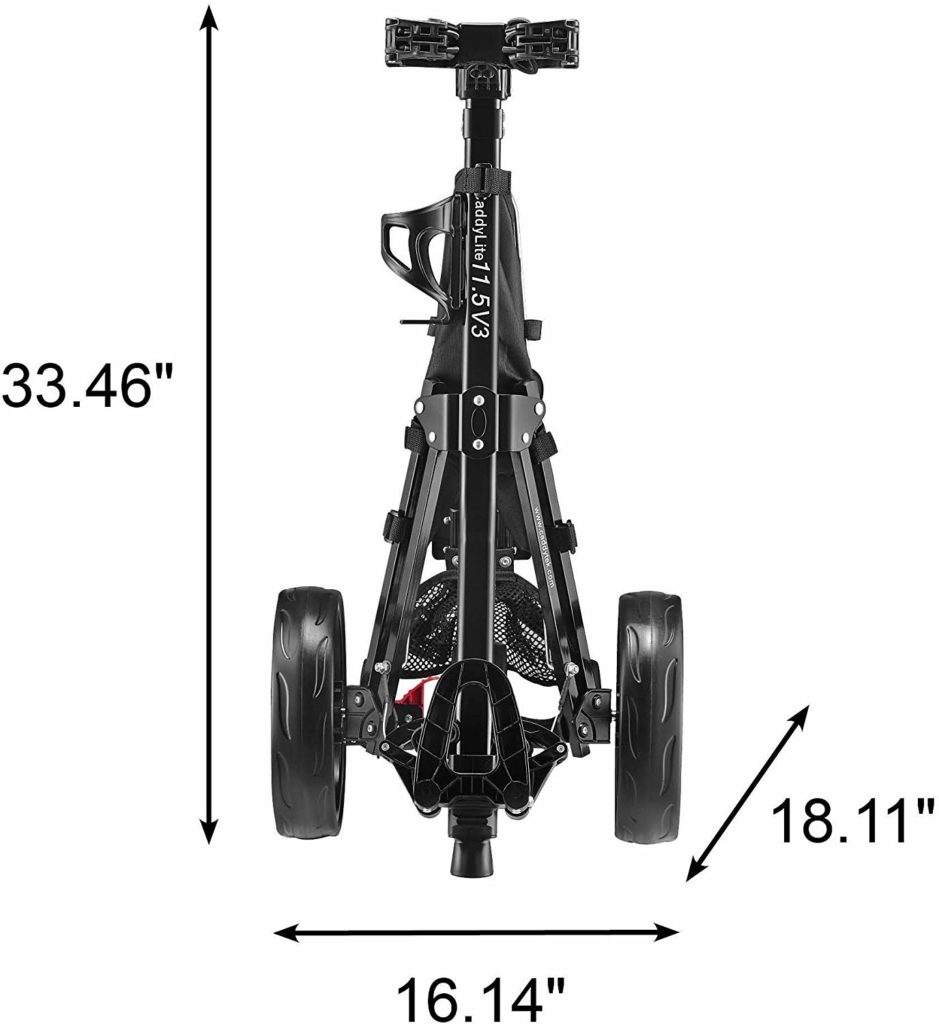 In fact, This push cart is one of the lightest models on the market, weighing just 13 pounds. Besides, its compact size, the CaddyTek 11.5 V3 Deluxe comes with a foldable feature. With just one step by the handle and the front wheel, you can fold it or unfold it in seconds. Meaning, it is easily packed and stored, especially if you have a small car.
Foot Brake
This embarrassing incident may have happened to you on multiple occasions. You are just pushing your cart in peace, and suddenly you stumble. Or, you are parking your golf cart, and oops you trip over something.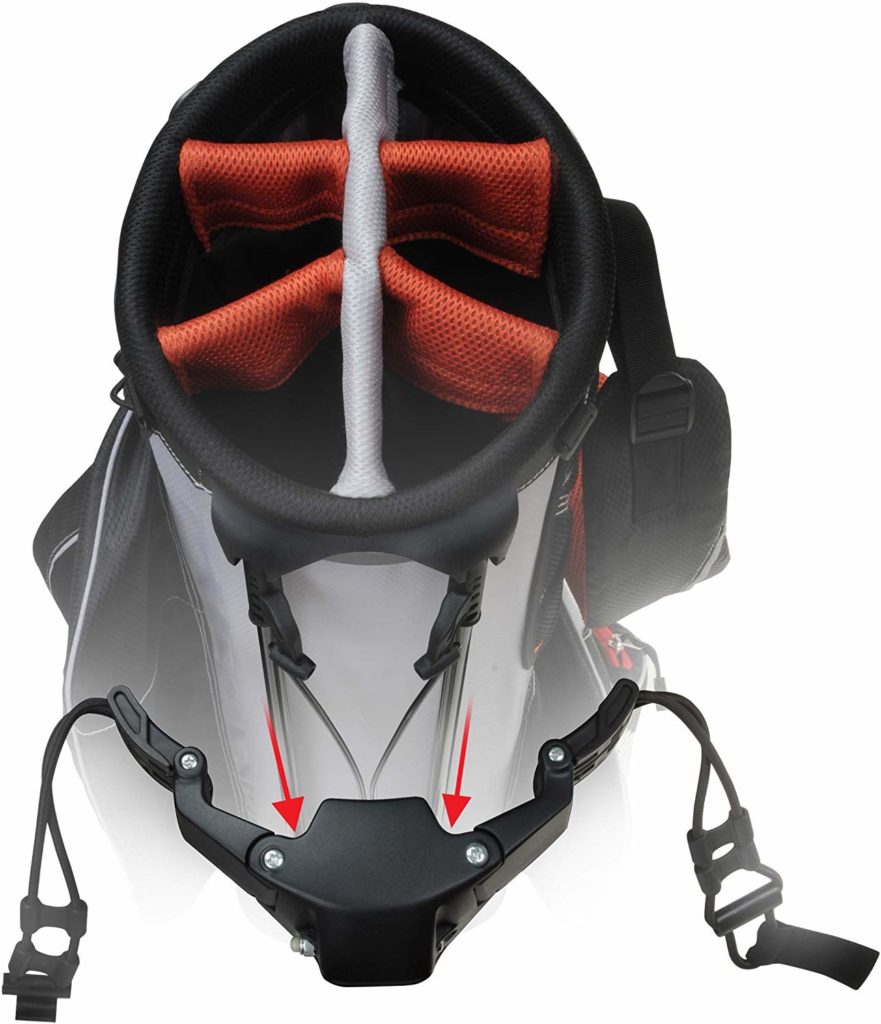 With The CaddyTek foot brake, you can rest assured. Losing control and embarrassing yourself will be from the past. This push cart has a special patented foot brake system, available only in CaddyTek's. The brake is efficient and suitable for all golfers. It is activated and deactivated when you need it. With one press, you can stop your cart with no trouble.
[maxbutton id="1″ url="https://amzn.to/32m5AnI" ]
Adjustable Handlebar
The CaddyLite 11.5 has another interesting feature, an adjustable handle. The Handlebar comes with a beautifully staffed cushion for enhanced comfort. It is also suitable for all heights since you can alter it to meet your needs.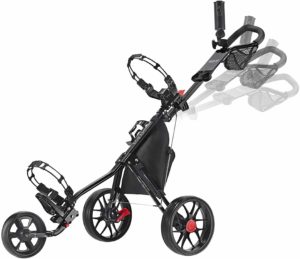 [maxbutton id="1″ url="https://amzn.to/32m5AnI" ]
With a four-position option, you can adapt your handle to whichever angle you want. Having a convenient handlebar may not be the most important feature in a push cart. Yet, a reliable and adjustable one can eliminate hand pressure and add flexibility.
Pros
Spacious storage room for your golf equipment and personal items, with additional support to secure your stuff into place.
Lightweight and compact making it portable.
Folded in seconds and stored anywhere
Front-wheel alignment mechanism for added stability.
Airless tires
Adjustable and convenient handlebar with four positions option.
Efficient foot brake system for enhanced control
Affordable and sturdy.
Cons
It comes in limited color choices.
The foot brake may not work with all shoe types
The one-step folding system can be complicated at first
FAQ
Now, let's shed light on some of your questions.
1- Do I have to use a certain umbrella type for this push cart?
No, you have the freedom to use any umbrella you want. This push cart comes not only with an umbrella holder but also with an adjustment knob for all types and sizes.
2- Could I store it in a travel bag?
The lightweight and foldable CaddyTek 11.5 push cart makes it perfect for the travel bag. Although you can save yourself time and just fold it and store it in your car. It won't take much space.
3- How much time does it take to fold or unfold the CaddyLite 11.5 cart?
Literally, a couple of seconds is all it takes to fold or unfold your push cart. The CaddyLite V3 Deluxe folds and unfolds in on step, making the process super fast.
Conclusion
In short, having the right push cart at your disposal can make your golf experience more relaxed and fun. You will no longer think about the burden of carrying and storing all your golf gear. And, having CaddyLite 11.5 does not only do the job for you, but it also offers you some bonuses to make your life even easier.
[maxbutton id="1″ url="https://amzn.to/32m5AnI" ]